Not too many cities can include their traffic signals in their claim of fame, but in Berlin the Ampelmann, the tiny little figure that lights up to tell pedestrians when they can or cannot cross the street, is as iconic as many of the city's other famous sites and landmarks. Now, on the 56th birthday of its inception, the Ampelmännchen figures reach a new level of recognition as it gets a special Google Doodle animation on the search engine's German homepage.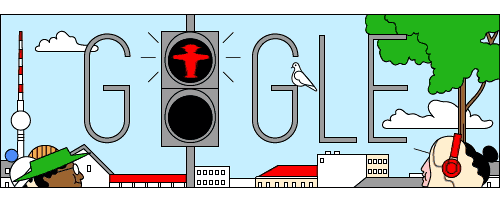 The Ampelmännchen figures gave the traffic signal a sense of personality, differing from today's generic signals seen in most areas of the world, and was unique to city that some would argue at the time didn't have much of it: East Berlin. It became so iconic to the city's culture that when Germany reunified in 1990 and began standardizing the signals to match those of the West, East Berliners fought back to save their beloved Ampelmann.
Today it would be hard to imagine visiting Berlin and not seeing the iconic figure guiding pedestrians as they navigate Berlin, and Google recognizing 'his' status on the 56th birthday shows that the Ampelmann is more than just a signal to stop or go.